W547 Camshaft and supercharger package
For over 45 years the Walkinshaw name has been celebrating success in Motorsport and on road car
performance enhancements. Walkinshaw Performance Products continues this amazing story with the W547.

Specifically developed to suit the 6.2ltr V8 engine (more commonly known as LS3) it produces an amazing 547 kW of unbridled excitement which can only be achieved from WPP enhanced vehicle.
It is by far the most powerful performance enhancement available for a Commodore that Walkinshaw Performance Products has ever produced.
The W547 W Series package is to be sold exclusively through the WPP's national network of resellers.
All products have been developed and engineered by Walkinshaw Performance Engineers to meet the exacting standards and high levels of quality that would be expected from an Original Equipment Manufacturer (OEM).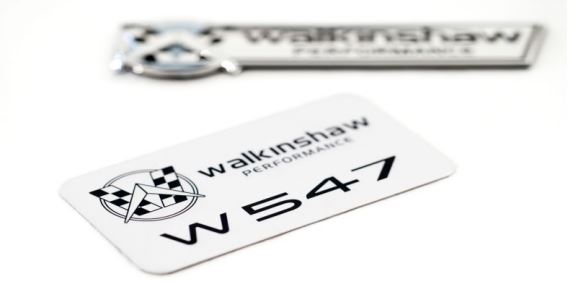 W547 Package Contents*:
Supercharger, with Eaton Twin Vortices 2300 Series (TVS) Gen VI rotors
Self-contained oiling system
Cast aluminium coil covers
Large high flow injectors
Water to air intercooler package
Custom moulded heater hoses
Unique Walkinshaw Performance injection moulded cold air intake package
Heavy duty serpentine belt drive system utilizing Goodyear 'Gatorback' belt
12" long intake runners
Custom moulded intercooler hoses
WP Camshaft and Valve Spring Upgrade
OEM Spec Camshaft
Cam Sprocket
Crank Bolt
Camshaft Bolt Set
Valve Spring Retainers
Valve Stem Locks
Valve Springs Beehive Style
Fully fitted and dyno tuned by an authorised Walkinshaw Performance Centre
WPP Ceramic Coated Headers
WPP Hi flow catalytic converters
WPP Dual Active Cat Back Exhaust
WPP Drive Line Warranty
W547 Badging
W547 Certificate of Authenticity
*For vehicles that have traveled more than 20,000 km's require lifters to be replaced. The lifter replacement package includes below. Other items may be required include oil filter etc this is at additional cost to the package as priced.
Head gaskets*
Head bolts*
OEM Lifters*
Lifter Guides*
*Only premium quality genuine GM Performance products are used.